From Highschool Dropout to Global Sensation: The Emotional Story of Arap Marindich, The Man Behind The Viral Car Meme
In recent times you will be hard pressed to go through social media without seeing the picture of a dusty driver wearing a helmet with his navigator guide in the passenger seat inside a broken-down vehicle lost in a desert.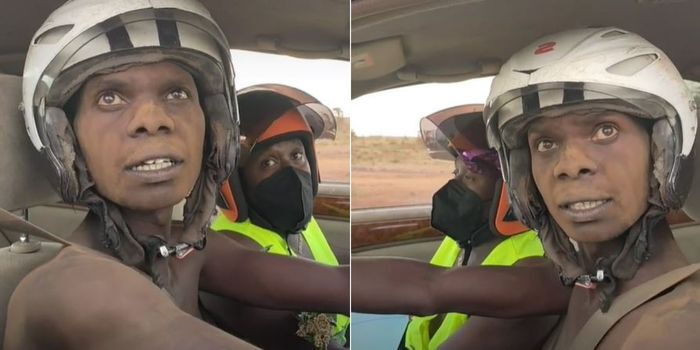 The famed image originates from a now-viral 1-minute video where 33-year-old Kenyan comedian Arap Marindich (the dusty driver) and Tula Chemoget "Kaptula" (his navigator) impersonate a rally driver covered in dust hilariously answering questions from an interview, explaining how intense and difficult his race at the rally was.
The clip has turned Marindich into an overnight international sensation as the video has gone on to generate numerous memes making the Kenyan comedian the first global meme from his country.
Marindich life isn't all laughs though, the comedian whose real name is Kennedy Kipkorir decided to go by Marindich to honor his late grandfather. In the Kalenjin community where he hails from, it is compulsory to inherit a grandfather's name after their death.
Marindich is also a high school dropout and an ex-taxi driver, it was in the course of his former profession he found Kaptula (his navigator in the video), who hired him as a cab driver.
After noticing how funny Marindich was, Kaptula would evolve from employer to his talent manager who encouraged Marindich to post hilarious clips on the internet. However, the taxi Job didn't last long and Marindich and Kaptula parted ways temporarily.
As time went on, Marindich and Kaptula would reconnect and decide to head to the Naivasha Safari Rally, where they would spot a broken-down vehicle.
Seeing an opportunity for a skit they approached the driver, asking if he would permit them to shoot a short video in the vehicle, but as they attempted to move the car all it did was gather dust on Marindich, setting the background for the now famous meme that would change his life forever.
Asides from his budding comedy career on the internet, Marindich is an also advocate for peaceful and fair elections, as his home country, kenya approaches the polls later this year.